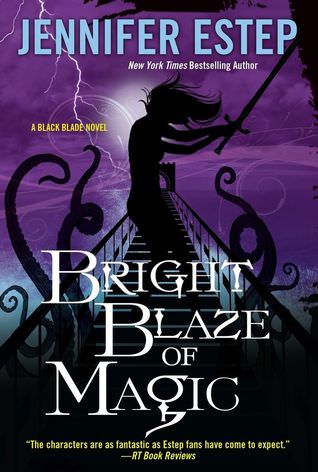 Bright Blaze of Magic by Jennifer Estep
Series: Black Blade #3
Publisher: Kensington on April 26, 2016
Genres: Urban Fantasy, Young Adult
Pages: 368
Format: ARC
Source: Publisher
Purchase: Amazon
Add to: Goodreads
Rating:
Heat:
Bad Things Always Come In Threes…

As a thief, I'm good at three things: hiding in the shadows, getting in and out unseen, and uncovering secrets. I put these skills to work for the Sinclair Family, one of the magical mobs that run the tourist town of Cloudburst Falls.

Everyone knows Victor Draconi wants to take over all the other Families--and kill every last Sinclair. What they don't know is that I'm on to him, and no way will I let the man who murdered my mom get away with hurting all the other people I care about. Especially when I've got places to break into, stuff to steal, and Devon Sinclair fighting right by my side…
At A Glance
A really good ending to the trilogy.
The Good
Jennifer Estep is the bomb at character growth. We watched Lila grow from a loner thief to the shinning, backbone of the Sinclair family. Devon remained the perfect boyfriend. He treats Lila so well I want to scream at not having a man like him. He's sweet, understanding, and so damn adorable.
I was excited to see how much action we got for the last book. So much danger, running, and even death. Hits you in the heart a bit. I was actually surprised by how much violence we get in Bright Blaze of Magic. Not too much but enough to raise my eyebrows a few times.
I love how the romance in this series was so pure and straight-forward. Not an overabundance of drama, just some reluctance in the beginning that easily moved into acceptance and love and stayed that way. It was wonderful.
A lot was wrapped up into a nice, little bow at the end, but there were a few loose ends that make me think this trilogy is not over. Hmm…
The Bad
I expected a little more twists and turns, like we got in the other books. But everything was pretty straightforward. Not bad, but not exciting.
Lila has a tendency to over explain in her internal monologues and I found it exhausting.
The Snuggly
No sex at all. Just some kissing, very sweet and innocent.
Final Thoughts
I think Bright Blaze of Magic was a great ending to the trilogy, though I see a possibility of more books to come. The character growth was amazing, though more twists would have been awesome. Very recommended.
Related Posts